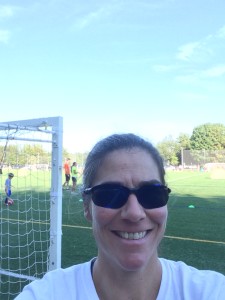 RUNNING!!! OMG-I did that this past week. I thought while Gordon is at soccer practice I will run around the field for 20 minutes and see how it goes. It was miserable! When you are totally out of shape running feels like you are going into cardiac arrest and never mind my joints and ligaments were killing me and I thought my uterus was going to fall out. All at an "awesome" pace that I could have technically walked. Hey-I did it and I plan to try again at this week's practice…hopefully with better results. Running is the most efficient way to burn calories so I will keep at it especially as winter is approaching.
In other news I took the girls to the doctor at the same time for a weight in/check up and I did the farmers carry with them. Two car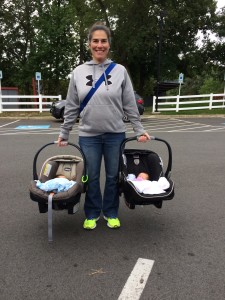 seats plus approximately 6 lbs each was tough when I had to walk about 100 meters each way. There were lots of offers to help, but I declined thinking I could use a little extra. Kept the core tight, shoulders back and a steady pace. I give myself a pat on the back.
It's only been two weeks and I am sick of working out in the basement with weights because I am so limited right now. It has been the same old stuff and until I can fully do kettle bell activity I think I may venture to BREAKAWAY tomorrow and pump some iron-you know get huge. Ha Ha.
I've gone on a couple more bike rides and I've gotten faster as I am averaging in the 14's now. I've been riding with the hubby (Jeff) which is good because I can sit on his wheel and get a draft, but also not good he makes me work harder as he rides much faster.
I had a few moments of panic this week as milk production was low for a day or two. Then it hit me I've been working out more and I must be actually sweating for once in the last year. I literally drink almost two gallons of water per day-production is back up. Whoa!
AAANNNNDDD the moment you have all tuned in for this week…..I went mountain biking with Gordon to see if he would smoke me. I didn't get smoked, but damn he was fast and I actually had to pedal hard to keep up. I am technically a better rider, but I'm competing against a 6 year old and in a year or two I will be toast. It's worth a look especially at the end for some laughs (oh this is blackmail when he gets older). He did ask if I was actually going to use it.
Thank you all for the support this week. Knowing that you all are reading this is even more motivation to get a booming body at 40 after twins. Going to keep it up!!!