No STRIKEOUTS this week-it was filled with a lot of hits except for the fact that I had to tap into my milk reserves. I can't figure this out-some days production is good and some days it is not. For those of you who know me well know that I worry excessively over things I can not control.Tapping into my reserves put me emotionally way down. I feel like I am letting the girls down in a way. People LOOOVVVEEE breastfeeding. Let me tell you something-it is stressful. Not enough milk, OMG they spit up: must be something I ate, did they eat enough….the list goes on and on. I can say I HATE breastfeeding, but we know breast is best and I hope to make it to my goal of 4 months.
Enough about the kids-this is about me and working out, right?!?!? Let's focus on my work outs then.
Day 1 is always Wednesday and that is soccer day which means running. I did 30 minutes this time and ventured off the field to the neighborhood. I actually had to go pretty far because my pace has picked up. When the pace picked up though the DD boobs didn't like it. I don't know how all you big breasted women do it. It's painful!!! I feel like I have to double bag em'. Another issue with breastfeeding. Another downer with running right now is that my knees are killing me. I've never had this issue. It's either
my shoes, too old, doing too much too fast or just no muscle tone to support them right now. I went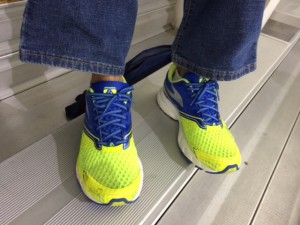 running the next day as well and still the same thing with the old knees. I will try different shoes next run as I am usually an Adidas girl, but while I was pregnant I bought Brooks because they looked cool. (Yeah, don't ever buy shoes for running because they look cool-it is usually a bad idea)
I had a couple of two-a-days. Meaning I lifted and did cardio on the same day so that is progress. My lift on Saturday was nice except my chest was so sore I couldn't push myself off the bed. It was my first time doing barbell bench press and I added a second back and chest exercise as well. Ouffa!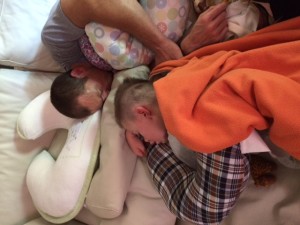 The boys; Jeff and Gordon were in charge at home and this is what I come home to: fast asleep on the couch while football was on. Good thing they are in charge of the girls. LOL! I also hit some pull ups for the first time on Monday. Gordon apparently is my new trainer. Watch this: IMG_0129  I asked him months ago if he would help me get back into shape and be my trainer he said no that he didn't know how to do that yet, but he would babysit the girls instead. I think he realized the girls are pretty boring right now and dirty diapers are gross and he would figure out training faster and it would be a bit more enjoyable. Back before I was pregnant with Gordon I used to be able to do 3 sets of 10 of my own body weight pull ups. Pull ups are hard and I don't really enjoy them so I never got back to doing that. Maybe that should be a good goal????
I hit a couple of mountain bike rides this past week. I am still huffing and puffing but getting better. My skills are sti
ll not that great, but it will come with time. I just need to get my confidence back on the bike. Jeff is being very patient with me out there even though I am holding him up on the trails. He is THE most patient person in the world as you know.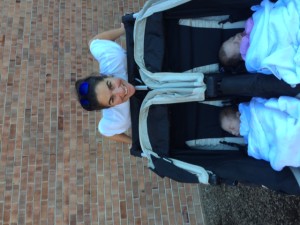 I had a nice off day on Sunday and took the girls on their first real walk around the hood. We took Gordon to the park so he could show the girls all his cool moves like he is on American Ninja Warrior. The girls bar
ely fit in the stroller properly-it's probably not that safe if I was to go any faster, but they need fresh air as well as I do. They need to be ready to run, bike and be outside as soon as possible. No
pressure of course from this family!